Chamber Players of Central Kentucky
Monday, April 28, 2014 at 7:30 P.M.
in the Recital Hall of the Singletary Center for the Arts
Tickets for the March 2 date will, of course, be accepted for the makeup on April 28. The program will feature UK's new oboe professor, ToniMarie Marchioni, and UK guitarist Dieter Hennings, along with Daniel Mason, violin, Margaret Karp, viola, and Benjamin Karp, cello.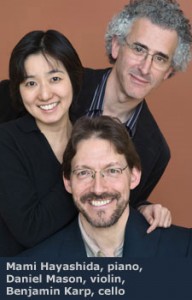 Karl Pliss: Sonatina for Oboe and Guitar
Benjamin Britten: Phantasy Quartet (oboe and strings)
Matiegka/Schubert: Quartet for Guitar and Strings
Fernando Sor: Fantasia No. 13, Op. 59 (solo guitar)
W. A. Mozart: Oboe Quartet
As always, this Chamber Players concert will do what a concert ought to do—present great music, including some you've quite likely never heard before. The performance will honor the late Nancy Clauter, who taught oboe at UK and was principal oboe of the Lexington Philharmonic.
Tickets are $25 for adults and $7.50 for students (FREE for UK students with ID). Tickets are always available at the door. Box office: 859-257-4929.